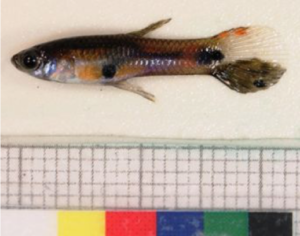 Do you want to fish guppies in experimental populations? Do you want to see how their life histories respond to fishing-induced selection? Do you want to get hands-on measuring fish and determining their sex and maturation stage?
Project background 
We are interested in understanding the evolutionary effect that fishing impose on fish populations (fisheries-induced evolution). Fishing commonly removes large individuals from the population (following size limit regulations) and creates selective pressure that favours fish that mature at earlier age and smaller size.
We are studying this phenomenon in experimental populations of guppies as model species.
Our populations, each consisting of several hundreds of guppies, live in 400-litre tanks. They are fished at regular intervals, each tank being subjected to one of the three harvesting regimes: harvesting a proportion of guppies either above or below a fixed length threshold, or random harvest.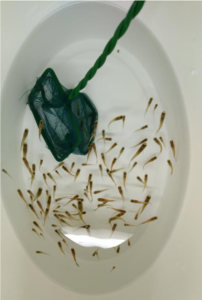 Tasks
Every 6 weeks we fish our populations:
We collect all the fish from the tanks
We sort all the fish according to our minimum size: 16 mm
We estimate length, weight, sex and maturation stage on 25% of the population
The fish that did not experience fishing are returned to the tanks
The project involves: labwork.
Working period: May 16th-20th, 2022– excluding May 17th.
Experience/skills to be acquired:
Learn about handling small fish
Take different measurements
Learn to distinguish male guppies from females,
Evaluate male maturation by assessing the development of the anal fin
Enter data in excel sheets
Involvement: Max 40 hours. Our fishing events normally take 3 to 4 consecutive days (9:00-15:00). You can decide if you want to join for one day or the full fishing event. Take contact to get the schedule for the spring.
Interested by this project? Need more info? Contact Beatriz Diaz Pauli (Beatriz.Diaz-Pauli@uib.no)
Project number: 020