Would you like to learn how to collect measurement data (weight/length) and dissect otoliths from juvenile cod in the way it is done in ecosystem surveys?
Project background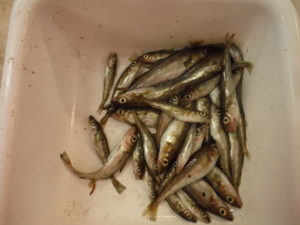 Norwegian research vessels from IMR collect data about fish populations on the yearly basis during surveys in the North Sea and the Barents Sea. The data helps build up knowledge on biology of juvenile cod  to support stock assessments of this species.
Tasks
You will measure the standard length and total length in addition to weight of whole fish and liver tissues. You will also dissect out otoliths from the individuals. Finally, you will transfer the data in formatted Excel worksheets that will be used for further assessment and analysis.
The project involves: labwork.
Starting date/period: all year long.
Experience/skills to be acquired:
You will learn how fish data is collected on surveys for further use at the national level. Practically, you will learn to perform standard measurements on juvenile cod, to dissect out otolith from the individuals and to gather data in Excel datasheets. This work is relevant for all those who plan to participate to surveys and cruises in the North Sea and the Barents Sea with IMR.
Involvement: approx. 30 hours (max 40 hours). Work periods of 4-6 hours recommended. The project can host up to 4 students at the same time. Work in groups of 2 students is recommended.
Interested by this project? Need more info? Contact Julie Skadal (julie.skadal@uib.no)
Project number: 006