Depending on the grazing type (sheep, cows, goats), which groups of insects living both on and in the soil are the most abundant? How do the environmental conditions (soil chemical and physical properties) influence the composition of the mesofauna community in the soil?
Project description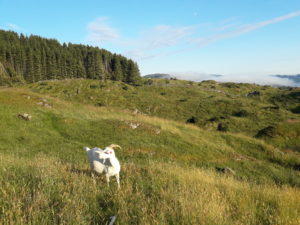 Our project TradMod (https://www.uib.no/en/rg/EECRG/120534/tradmod) has a very applied ecological focus: we are willing to investigate the balance between food production and preservation of resources and biodiversity in the newly designated Nordhordland Biosphere Reserve. Western Norway is traditionally a land of farmers, with an environment shaped by centuries of grazing. Nowadays the landscape looks like a patchwork of fields grazed at different intensities with different animals.
We collected samples from more than 20 places in Nordhordland, following a West-East gradient from the coast to the mountains. Overall the project we are not only interested on insects, but also on plant biomass and soil properties.
If you want more information on how you could contribute to the whole project, please visit the following link: https://biospire.w.uib.no/2019/09/04/prosjektbeskrivelse-019/
Tasks
You will help in lab work to sort the insects we collected from pitfall traps (ground-dwelling arthropods) or from the soil (mesofauna) and to transfer them into alcohol for long-term preservation. I will be mostly working in the same lab so I will be available for any questions.
The project involves: labwork
Starting date/period: 15 Jan 2020 – 30 Apr 2020.
Experience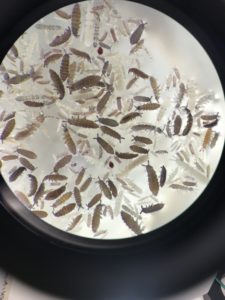 By participating in this project, you will discover a whole new world under the microscope, and maybe you will have a different opinion on beetles, springtails and acari after this! You will learn how to process insect samples as an entomologist and how to distinguish the main taxas of the insects living above or belowground. It is a great follow-up for those of you who took the BIO233 course last semester 🙂
Involvement
Max 40 hours. You can organise your time as you wish but I would advise to work 2-3 hours in a row to process a full sample, especially at the start.
Interested by this project? Need more info? Contact Morgane Kerdoncuf (Morgane.Kerdoncuf@uib.no)
Project number: 024