Global change affects populations, communities, and ecosystems across the world. Alpine plant communities are affected more because climate is changing more rapidly than elsewhere. Plant functional traits are a powerful approach to predict how plant communities will respond to warmer temperature, higher precipitation or change nitrogen addition in the future.
Project description
Trait-based ecology incorporates important methods and approaches that enable a powerful approach to predict how global and biotic interactions shape plant community dynamics and ecosystem functioning.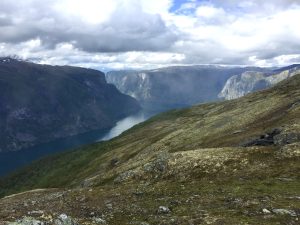 Each year, we organize an international Plant Functional Traits Courses (PFTC) that offer hands-on training in different applications of plant functional traits ecology within a real-life field research project setting. During each course, students collect and explore plant functional trait data in the field and use trait-based approaches within climate change research and ecosystem ecology.
This summer, we held the PFTC6 course in Aurland, Western Norway. We collected 6000 leaves from alpine grasslands within global change experiments that simulate warmer climate, nitrogen addition and grazing. In the lab, we measured plant functional traits like plant height, wet mass, leaf area, leaf thickness.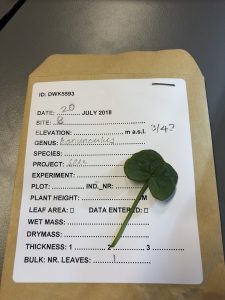 Tasks
To gather more plant functional trait data, such as dry mass, specific leaf area and leaf dry matter content, we need to dry and weight the leaves. The student will take part in measuring the dry mass of the leaves in the lab and enter the data into a spreadsheet. There might also be needs for helping to sort and organize all the samples and taking pictures after the weighing is done.
The project involves: Labwork
Starting date/period: November 1st 2022 – January 31st 2023.
Experience: The student will gain skills in measuring plant functional traits, how they respond to global changes, and identifying Norwegian vascular plants. You may learn a thing or two about time management, huge data collections and how to increase the quality of the data, organizing data in a spreadsheet, how to do lab work and how to work as a scientist.
Involvement: Preferably a couple of hours per week in November and December – to a max. of 40h per student
Interested by this project? Need more info? Contact Aud Halbritter (aud.halbritter@uib.no)
Project number: 042