Hundreds of salmon and trout babies are lying in a freezer, waiting to be studied. A student is wanted for help during measuring and collection of various samples from these fishes in the lab.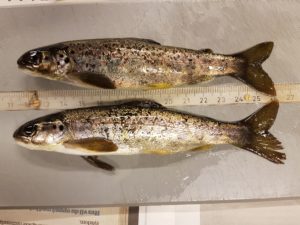 Project description
We aim to improve abundance estimates for young salmon and trout in rivers, by analyzing data from electric fishing. What factors affect estimate precision and accuracy, and how can we make sure we always return home from field work with high quality data?
Tasks
The student will assist in recording data (such as length, weight and gender) and collecting tissue samples from young salmonids in the lab. Possibly also entering these data into a spreadsheet.
The project involves: labwork
Starting date/period: 01 Oct 2018 – 28 Feb 2019.
Experience/skills to be acquired:
The student will learn some basic fish anatomy and standard sampling protocols related to aging and growth studies of salmonids.
Involvement: 30-40 hours during a week or two. Relatively flexible hours.
Interested by this project? Need more info? Contact Marius Kambestad (marius.kambestad@radgivende-biologer.no)
Project number: 004